Dr. Kathy Rumer
Gender Reassignment Surgery Expert
Dr. Kathy L. Rumer is a board-certified plastic and reconstructive surgeon in the Philadelphia tri-state area. Dr. Rumer is an expert in gender reassignment surgery and performs the full range of male to female surgery procedures, including:
Male to Female SRS (Penile Inversion Vaginoplasty)
Facial Feminization Surgery
Breast Augmentation
Superior surgical skills, extensive formal education and state-of-the-art facilities have made Dr. Rumer a popular surgeon for trans women.
Male to Female SRS
Dr. Rumer performs 80-100 MTF Sex Reassignment Surgeries per year. She excels at the One-Stage Modified Penile Inversion method of Vaginoplasty, achieving excellent depth, function and sensation. Plus, her technique does not require hair removal before or after surgery!
Facial Feminization Surgery
Dr. Rumer has extensive experience with Facial Feminization Surgery, including: hairline advancement, forehead contouring, rhinoplasty, upper lip lift, tracheal shave and more. During your consult, Dr. Rumer will discuss with you your goals with FFS, evaluate your facial structure, and create a surgical plan to help you get the results you seek.
MTF Breast Augmentation
MTF Breast Augmentation provides full breasts and a feminine chest contour. With Dr. Rumer's procedure, incisions are discreet. During your consultation, Dr. Rumer will discuss the type of breast implants as well as the surgical methods available to you.
Other MTF surgery procedures available:
Body Contouring – liposuction, fat grafting
Orchiectomy
Labiaplasty
Buttock Augmentation
Hair Grafting using advanced Follicular Unit Extraction technology
Dr. Rumer also offers advanced aesthetic procedures to help maximize your surgery results, such as Botox, Juvederm, Radiesse, and Platelet Rich Plasma.
Do you attend any of the national transgender conferences? If so, you may have seen Dr. Rumer. She is a regular sponsor of and presenter at: Philly Trans Health, Southern Comfort, First Event, Keystone, Trans Ohio and Virginia TIES.
Recovery Program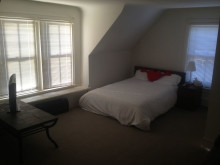 Dr. Rumer's recovery program helps patients recover in the Philadelphia area following surgery. For $95/day, you will be seen by Dr. Rumer and/or her Nurse Practioner every day. You can choose to stay at a local hotel (at additional cost) or you can stay in one of Dr. Rumer's guest rooms, located on the third floor of the facility that houses her office and home. Each of the large guest rooms have a full-size bed, a futon, a flat screen TV with basic cable service, WIFI, a ¾ size refrigerator/freezer and a microwave oven. Restaurants, as well as local rail and AMTRAK stations, are just minutes away. Patients usually check-in the day before surgery and check-out 9 days later. (Length of stay after FFS varies depending on the extent of the surgery.) One guest may stay on-site with you.
Consultations: During your consultation, Dr. Rumer will clarify each step of the process and discuss all the options available to you. You can choose an in-person, phone or Skype consult. The consul fee of $100 will be applied towards your surgery.
Wait List: 2-4 months
Payment: Credit cards, checks and cash are accepted. Dr. Rumer also accepts insurance and financing from multiple medical financing companies, such as CareCredit. Dr. Rumer is also an approved out-of-state Medicaid provider for New York.
Surgery Requirements: Dr. Rumer is a member of WPATH follows WPATH guidelines for gender reassignment surgery. You will require 1) medical evaluation by primary MD or MD providing hormones
and 2) a letter of recommendation from a psychologist or other mental health professional
---
Dr. Kathy Rumer, DO
Rumer Cosmetics
105 Ardmore Ave.
Ardmore, Pennsylvania 19003
855-782-5665
www.rumergendersurgery.com